Hey Lovelies,
I wonder how many people will find my blog now I've got its a big one as the title of a post haha oops. So this post will be mostly New Look based as I had two outstanding orders to collect, one that should have been in store before the Birmingham Blogger Meet Up but because of snow and due to the fact that the store I was collecting from had no working scanner to tell the website that there was a parcel in store I never got it until last Wednesday. I have added in two items that I picked up whilst shopping with Gemma (from Button's Blog...you all know who she is I talk about her enough... I love that girl).
Without further a do, let the clothes see the bloggers ( see what I tried to do there). Firstly the tops...
So as you can see I bought three tops. The first two are t-shirt style tops which have bird prints on. I think that I will be wearing a lot of bird prints in the summer what with these two tops and also the shirt from the haul last Friday. I like the colourfulness of the first top, I think it'll look good in the summer time with a pair of jeans, sandals (yes I said the s word in February I'm mad). The third top is a peplum top. I'm so not sure whether this style suits me and my body. Any hints on how to wear peplum if you are a bigger lady?
Next the Jewellery...
I picked up two necklaces and a set of earrings. The necklaces are different in style. The top one is just a simple blue triangle necklace and the second one the bottom one reminded me of the famed Topshop necklaces that have been making it around the blogs recently. I thought it would be good just to put with plain tops and jumpers to give them a little something.
The earrings are little bird studs... can you tell I like birds?
My last two items from New Look are a skirt and a pair of boots.
The skirt was bought for the summer months, I can definitely see myself wearing this with a plain white top. Can you see bird pattern, I managed to sneak it in again.
Finally from New Look I bought these flat black boots. I know they're nothing special but I needed a replacements for a pair that died on the sole.
Finally in this post, here comes my two Primark purchases that I got with Gemma. The purchases in Primark were...
Excuse the second picture being beyond blurry. I bought a studded bag and a navy dress. I love the bag, I'm still into my studs and I needed a replacement bag for a satchel that went on the strap. The dress I picked up because it is my style, the skater skirt, the lace collar. For a slightly better picture I took this one from twitter...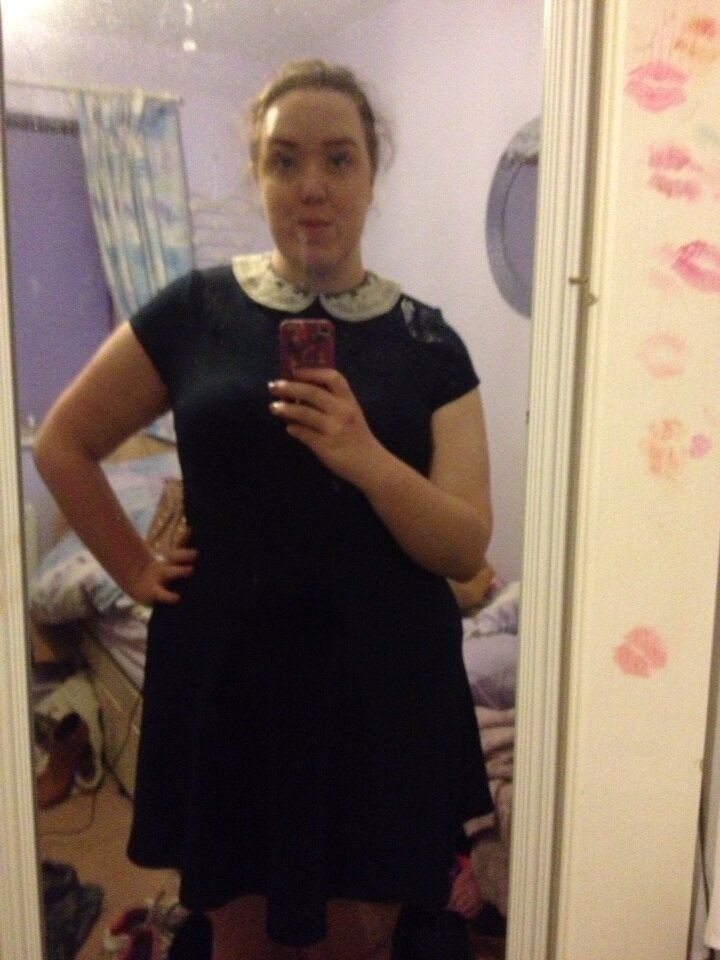 What do you think of my haul? Leave me a comment below.
Till Next Time,
Clare xxx