Hello lovely people,
How are you? Well?
I've got some news for you. I've created myself a little blog button and it looks like this: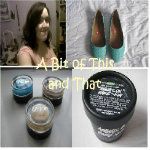 It is my first attempt at a button for my blog and to be honest I'm quite proud of my self. If you like my blog and would like to promote my blog and put my button somewhere on your page, please find the link down the right hand side of my blog where all my information is you will see an area that says "Get My Button".
If you're lovely enough to add it to your blog please leave me a comment below.
Till Next Time you Lovely People,